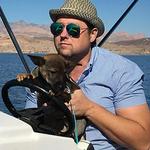 Updated by Brian Mohr
What to know
Agents must have both a Slack user account and a JSM agent account.
Notification and ticket creation options are based on how each support organization configures their channels and options.
Agents can use Slack for desktop, web browser, or mobile. All conversations are synced automatically.
Connecting your Slack and JSM user accounts
Before you can start using HelpDesk+ you need to connect your Slack and JSM (Jira Service Management) accounts. This is a quick one-time step. Read here for full details.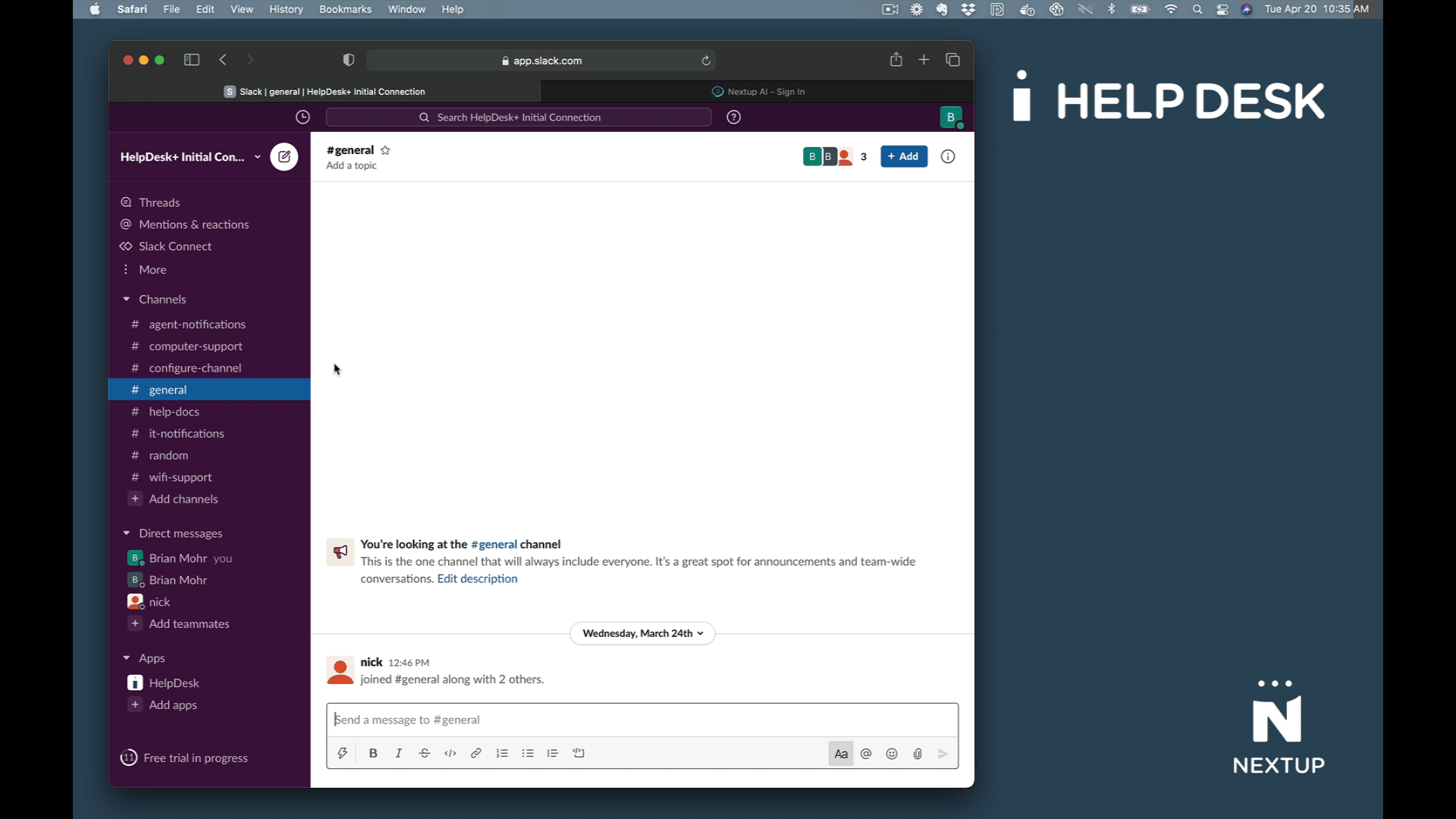 Working in support request channels
Slack support channels are the primary way that your end-users will request support. There are a number of ways that support channels can be set up depending on how your organization services requests. One common process is for agents to create tickets on behalf of the requestor's initial message.
Your end user requests support by sending a Slack message to your support channel
A ticket is created either manually or automatically based on how your support channel is setup
You as an agent responds in the Slack thread that was created by the newly created support ticket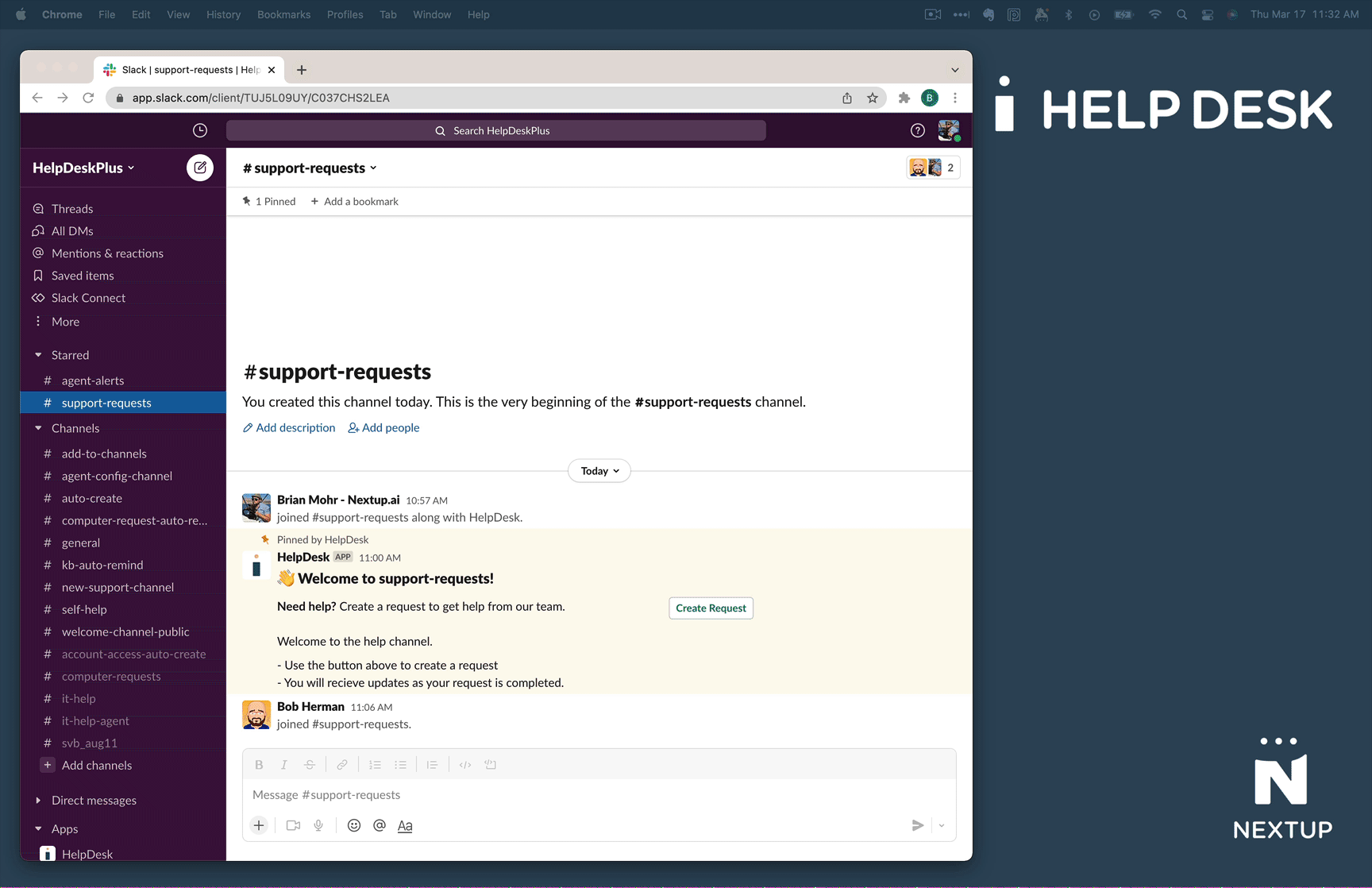 Working in agent alert channels
Service request notifications are displayed as Slack messages in your alert channels
Any agent in that channel can assign the ticket to themselves, or to others
Clicking on the thread that is created from the notifications allows you to talk directly to the ticket requestor
All conversations between you and the person requesting help is tracked to the associated service ticket
How to communicating in threads
Agents and users requesting support see different thread headers that show current state of ticket and any relevant instructions
Each view is updated in real-time to show assignee, current status, and any related updates
Custom messages can be added to support channels with instructions and/or links to help resources
Agent thread view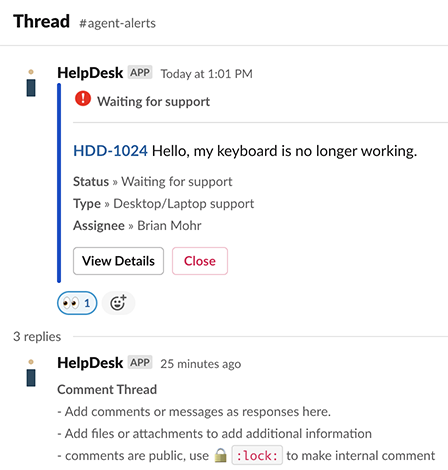 Requestor thread view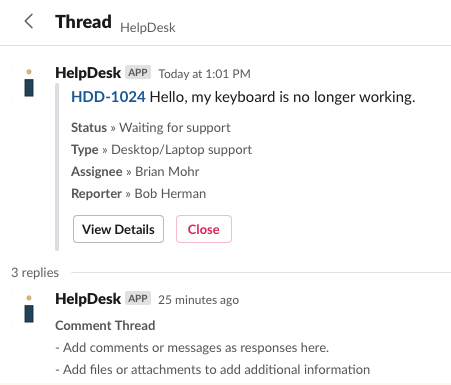 Private vs public support threads
By default, Slack support threads that are created from channels allow anyone in that channel to view or join that threaded conversation. If you or the person requesting support needs to discuss the issue privately, you can move the discussion to a private Slack thread.
All text and conversations will continue to be tracked to the original service desk ticket.
Private vs public support messages
HelpDesk+ support both private and public JSM ticket messages. This means that you can add internal notes to active service desk tickets from inside of Slack.
How to view tickets assigned to you
Navigate to the HelpDesk+ app in the left-bottom navigation bar in your Slack application to view tickets that are assigned to you.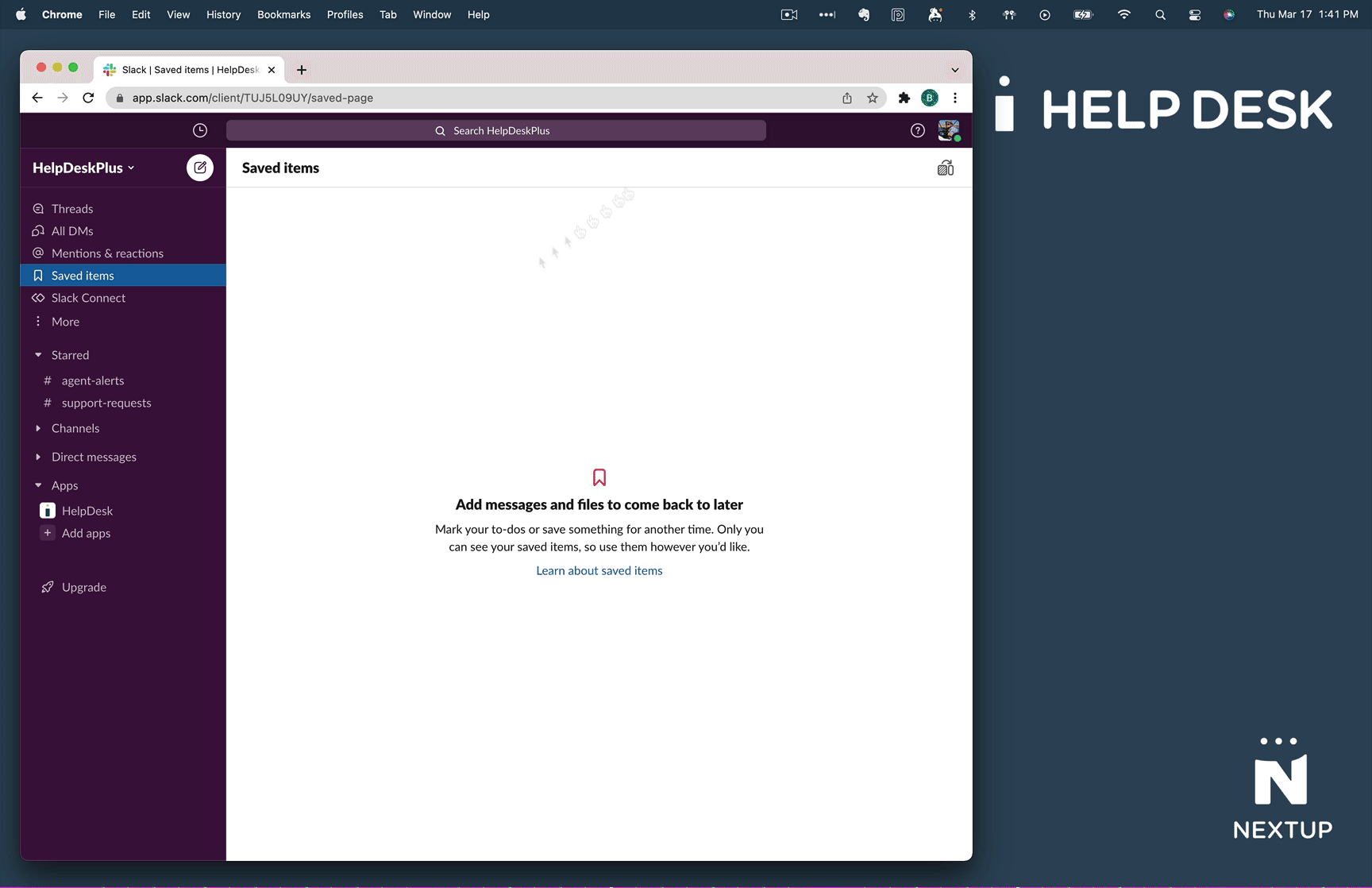 Understanding how to update support requests in Slack
From Slack you can easily transition, assign, comment on tickets that are stored in your JSM portal.
HelpDesk+ support asynchronous service request updates. Any changes you make in Slack or in the JSM portal are reflected in real-time in both places.
Understanding multiple ways to create a support request
You can create tickets on behalf of your customers in multiple ways depending on how your organization has configured the application globally and within specific channels.